Domestic Data Streamers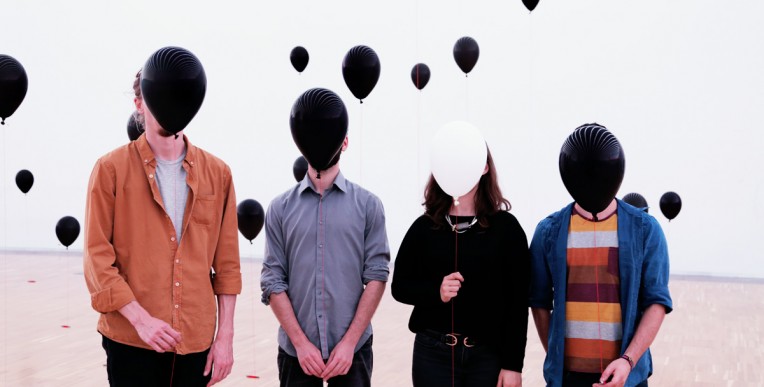 Did you grow up in Barcelona?
Dani Llugany – I am from outside Barcelona, just 13 minutes away from here
Pau Garcia – Yes, I am from here. [John] is from the countryside, two hours by car.
D – Yeah, he was raised in the forest.
P – He still lives in a farm – a very technological one though.
D – It's really in the middle of nowhere. You have to go by car, through a bunch of palms.
But he has internet I hope?
D – He grew up in these conditions having like 1MB of data, so he really figured out the best way to use them.
I understood that you both went to ELISAVA, did you all meet there?
D – No.
P – Yes.
D – Well, that's where we started working with Alexandra.
And you did a bachelor's in design?
P – Yes, in art and design. It is a multidisciplinary program where you study interior, industrial and graphic design alike for two years, and then specialize in one. We both went for graphic design, and Alexandra for interior design.
That explains why most of you work is closer to experiential design
D – Yes. We also work with George, who is an interaction designer. He actually studied Cognitive Systems and Interactive Media.
At DDS, we actually focus a lot on the functional meaning of things. We somehow are communicators of information who try to understand communicating systems and share this knowledge with people.
And why did you choose to study design?
P – My interests were always gravitating around the arts, but with a great emphasis on usefulness, and design is pretty much the place where function and art meet.
D – At DDS, we actually focus a lot on the functional meaning of things. We somehow are communicators of information who try to understand communicating systems and share this knowledge with people.
P – Yeah, that was kind of our excuse to start doing art projects – this interest in functional and scientific meanings behind design. The content of our installations is really produced by the way people interact with them.
After you finished school, did you work for other studios or did you start DDS right away?
P – I won a grant from the European Union for a 9 months-long residency in Milan and started going from grant to grant – I wasn't really comfortable with advertising and standard design studios. I was trying to do design from within the art world.
D – Meanwhile, I was having a great time in Reykjavík with my ex-girlfriend. When we broke up, I came here and met Pau, which was amazing and we fell in love right away (laugh). Pau had been chosen by the Chaumont Festival to make an installation – they select ten students per year to make a big project together – and he asked me to do it with him. We ended up making a bubble wrap wall – 12,000 bubbles that we filled up one by one.
What did you fill them up with?
P – With some kind of ink.
D – We then realized that we loved this life and wanted to spend all our time that way. We first planned to become the 'bubble guys' – doing performances with these bubble wrap mandalas all around the world – but… it didn't work out that way.
Where people actually popping them?
P – We had a final event where everyone was popping the bubbles. We both liked doing the same thing over and over and somehow see how people would interact with it.
What other installations did you make? When did you start working as a team?
P – I know Alexandra since I am a kid and we just love working with her because she is this crazy girl who always thinks in a very mathematical way. We started collaborating with her for a yearly project in Tuscany, making different installations for a small village called Bagni di Lucca. We created for instance this installation suspended in the middle of the room and filled with dead leaves. As time passes by, the leaves decompose and turn into different colors. At that point, we heard about this guy John living in the middle of the forest, making robots all by himself. When we started DDS, Dani and I were working on the projects' conceptual component with Alexandra who also had all these productions skills, but we then had a project with an electronic part we didn't know how to bring together. So we offered him to come work with us and he has been with us since then, taking care of the electronics and programming components of our projects.
D – Yeah, this first project with John was a system made to select the last speaker of a portfolio review event in Barcelona. There were seven possible speakers and we had to find a way to visualize people's votes and everything. It was the first time we were actually all working as a team – we all got along so well that we decided to go further together. [video]
P – We then did this project called "Golden Age", which was the first one for which we were actually free to select the kind of information we wanted from people. During a festival, we asked people about their age and the age they would like to be. We were basically looking for the ideal age, the "golden age", and the patterns behind how people perceive it across their lifetime. [video]
D – It is really this project that made us realize that we had hit onto something, that there were more 'artistic' ways to collect people's data. It is really difficult to ask someone for his or her age, but here they would actually queue to tell us – queuing just like they would for a rollercoaster ride. It is there that we realized we had found a really powerful approach, and started to believe that the way information was collected was just as important as the art piece or project made out of it.